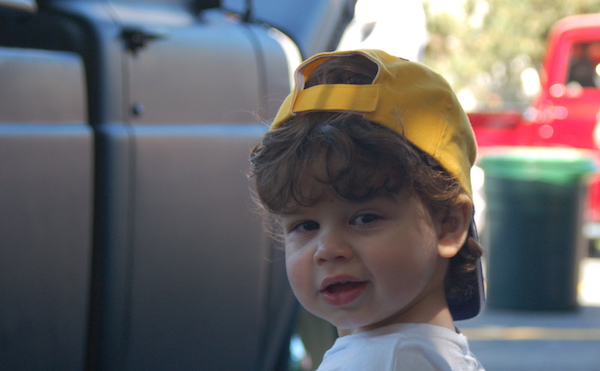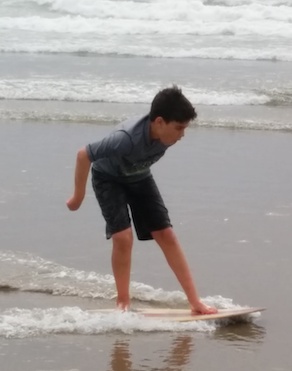 We look forward to seeing you at Ben's Bar Mitzvah on August 5. Here are some details for the big weekend:
Friday night dinner & service
Start time: 6 pm, Kabbalat Shabbat service begins at 8
Temple Beth Am, 2632 NE 80th St., Seattle.
[themify_map address="2632 NE 80th St., Seattle WA 98115″ width="350px" height="350px" zoom="12″ type="hybrid"]
Dinner will be a buffet-style affair. Arrive when you're ready. We'll gather, have dinner, reconnect and hang out with everyone. Dress is casual, but you may want to bring a light sweater because the weather cools and the A/C is usually on. Services last a little over an hour.
Saturday morning service — The big event!
Start time: 10:30 am, luncheon around 12:45
Temple Beth Am, 2632 NE 80th St., Seattle.
[themify_map address="2632 NE 80th St., Seattle WA 98115″ width="350″ height="350″ zoom="12″ type="hybrid"]
Finally, our little boy becomes a man! Our synagogue is relatively casual, so no need for a suit but somewhere between that and jeans and a t-shirt should be about right.
Saturday night party
Start time: 6:30 pm
The Mountaineers, 7700 Sand Point Way NE, Seattle, WA 98115
[themify_map address="7700 Sand Point Way NE, Seattle, WA 98115″ width="350px" height="350px" zoom="12″ type="hybrid"]
This is going to be fun and casual! Kids (and adults who aren't holding a beer) will be able to use the climbing wall until 8, led by a staff of qualified belayers (waiver signature required). We'll have yummy food, drinks, and a sweet surprise for dessert. The cops usually show up around 10:30 or 11 so we'll break up around then.
Sunday morning picnic
Start time: 10:30 am
At Carkeek Park
[themify_map address="Carkeek Park" width="350px" height="350px" zoom="12″ type="hybrid"]
This may seem like a bit of a trek to the other side of town, but it's worth the drive to one of the most beautiful spots in Seattle. You get park, forest and beach (plus trainspotting!) so bring comfortable shoes. The picnic spot is right by the playground, so once you arrive at the park you'll follow the road down the hill then up the hill and around a few forested curves before it opens up to a grassy field. Park where you can and grab a bagel and lox.
Seattle attractions
This place is awesome in the summer! But beware, this weekend is SeaFair, our archaic tribute to things that run on jet fuel. You'll know it's going on because you won't miss hearing the Blue Angel Navy jets soaring over us. Which means traffic in and toward downtown will be horrendous (including intermittent closure of highways 520 and I-90 that cross Lake Washington to Bellevue), so don't plan on heading south of downtown or cross the lake if you don't have to.
Before you settle on the Space Needle and Pike Place Market as your two must-sees, here are a few other attractions we suggest that are just as worth it:
Viewpoints
Volunteer Park – The problem with going to the top of the Space Needle is that you can't actually see the Space Needle. Not so when you climb the water tower (for free!) in a beautiful city park designed by the same brothers who designed Central Park. You get a 360º view of the city, a light workout, and you can even check out rare plants in the conservatory just down the road (but still within the park). Unfortunately, the Asian Art Museum is closed for renovations, but the grounds are still lovely. If you want coffee and a snack, head to the Volunteer Park Café, or if you'd like a longer walk, head over to Hello, Robin, owned by our friend Robin, for some amaaaaaazing cookies.
Olympic Sculpture Garden – It's like an art museum, except it's outside! So you can see beautiful modern sculptures and an awesome view of the Puget Sound. And if you turn around you can see the Space Needle! The path leads to the waterfront, which takes you through a lovely park as well.
Ballard Locks – The water in Puget Sound is salty. The water in our city's lakes is fresh. And eighteen feet above sea level. So when the engineers who built our city a century ago wanted to bring boats into Lake Union, they designed a way to allow the water to lift the boats (and only slightly mix the fresh and salty). These are working locks, and they operate many, many times a day. So you see boats, you see miracles of modern engineering, and because spawning season is just beginning, you just might see some salmon on the fish ladder. If you're lucky, maybe you'll see a sea lion or two surveying the inlet for lunch. And speaking of lunch, across the street you'll find the Red Mill Totem House, a mix of old school Seattle's best burgers or fish 'n' chips.
Gasworks Park – Long ago these big machines provided power to our fair city. Today it's an awesome park right at the northern end of Lake Union, where you can run around, up and down the hills to let off steam and check out an awesome view of our skyline. Plus it's a hop, skip and a jump from Fremont, which has awesome restaurants and sightseeing as well.
Local Culture
Ballard Sunday Market – After the Sunday brunch, head 3 miles south into the Ballard neighborhood, which is a fun place to check out in and of itself, but Sunday mornings it hosts the city's coolest farmer's market. Even if you've never been to Seattle before, you'll still probably run into someone you know. Plus farm-fresh foods and beyond just produce (which will be at peak season). The rest of the neighborhood is pretty fun as well. It's a little known fact that there are microbreweries per capita in this area than Starbucks. That's according to resident beer expert Cliff Clavin.
Fremont – This neighborhood calls itself the Center of the Universe. When we first moved here in 2000, this neighborhood had an amazing art culture. Most of the artsy types have been pushed into other neighborhoods because the rent's too high, but their presence still lives on in the guise of a statue of Lenin, the Fremont Troll, and a big ol' rocket ship. Plus Google's local headquarters.
Phinney Ridge/Greenwood – If you take Fremont Ave. north up the hill, then past the Woodland Park Zoo (another good attraction for the kids), you'll find another neighborhood that's retained a lot of its funky charm, with plenty of good restaurants (including several Middle Eastern), lots of brewpubs, and little shops and boutiques to browse through.
Capitol Hill – One of Seattle's original neighborhoods, just east of downtown, this funky area has sen a renaissance in recent years with the addition of tons of high-end restaurants, microbreweries, great coffee (including the Starbucks Reserve Roastery, which is an amazing thing to see, though it's far from the independent vibe you'll find on most of the rest of the hill). It's the home of Volunteer Park (above) and some of the original mansions our city built.
MOHAI/South Lake Union – If you want to see the HQ of the company where you probably ordered the computer you're viewing this on, the clothes you're wearing, and the luggage you're using to get out here, this is the place. Yes, that's boring. But on the southern shores of South Lake union you'll find the Museum of History and Industry, which is spectacular, and the Center for Wooden Boats, which is a living museum of Seattle's maritime history. Plus it's a pretty good place to run around with the kids, and maybe even rent kayaks or paddleboards at Northwest Outdoor Center or Moss Bay.
In-Town Hikes
Arboretum – Closer to our side of town, this is kind of a botanical garden, kind of an oasis within the city. Plenty of short hikes and a few glimpses of the wetlands on the shores of Lake Washington.
Discovery Park – Originally a military base, this city park on the shores of Puget Sound is nothing but hiking (plus some amazing views from the bluff at the top). But it's worth the time if you can't get out of the city to do some hiking.
Carkeek Park – We're having our Sunday morning brunch here, but the park has miles of trails as well as beachfront to check out tidepools and the trains going by.
Out of Town Hikes
This area is amazing when it comes to getting out on the trail. We've got the Cascades to the east, the Olympics to the west (plus lots of ferries to get you there), and islands in between. You can check out the Mountaineers for good hikes (Rattlesnake Ledge (medium), Mt. Si (difficult) and Twin Falls (easy)) are relatively close in. We also want to point you out to the Crystal Mountain gondola, which is right across the street from Mt. Rainier, so you'll get amazing views of the mountain and lots of trails from where the carriage lets you off. If you've got time, give it a shot!
Good Eats
So many restaurants, so little time! Here are a few longtime favorites for a taste of the city.
And for ice cream: Molly Moon's, Bluebird, Frankie and Jo's (vegan!), and Full Tilt (pinball!)
Finally, If you haven't made accommodations reservations yet, well, you'd better hurry!
We recommend booking a hotel outside of downtown Seattle because of the traffic congestion and cost of parking, and it's easy enough to get there if you want to go sightseeing. We have reserved room blocks at three hotels near Temple Beth Am, where the ceremony will take place, and the Mountaineers Club, where we will hold Ben's party in the evening. These are all within an area of the city that has great amenities and is centrally located as well as within five miles of downtown Seattle.
All of the contact information is below with some of the amenities available.
Stay tuned for lists of things to do during your visit.
Hotels
Talaris Conference Center — 3 miles from temple, 2.5 miles from Mountaineers Club
4000 NE 41st Street, Seattle, WA 98105
Use the code "Magalnick Bar Mitzvah" for the dates of August 3–7, 2017 when booking your reservation to receive a special $20 discount off their best available rate. This code is only available when calling the front desk directly. Room rate includes brunch (which we hear is amazing!) each morning. Talaris is in a park-like setting very close to lake Washington, it will be quiet and private.
University Inn — 3 miles from temple, 4 miles from Mountaineers Club
4140 Roosevelt Way NE, Seattle, WA 98105
They will offer a rate of $160/night. Please call and ask to be placed in the Magalnick room block for August 3-7. Complimentary shuttle will take you to University Village shopping center (near the temple and our house), Westlake Center downtown shopping core, and the Woodland Park Zoo.  This hotel is right in the heart of the University District. It is the busiest area of all three hotels suggested here. You must make your reservation by June 14 to receive the discounted rate!
Silver Cloud Inn (University District) — 1.5 miles from Temple, 2.5 miles from Mountaineers Club
5036 25th Avenue NE, Seattle, WA 98105
www.silvercloud.com/university/
Use the code "Magalnick Bar Mitzvah" for the dates of August 3–6, 2017 when booking your reservation to receive a special $10 discount off their best available rate. You must call directly to receive the special rate, and book no later than July 4, 2017. Complimentary shuttle will drop you off and pick you up within a three-mile radius of the hotel. Rate includes hot breakfast with a machine that lets you make your own waffles.
This hotel is right next to an upscale outdoor mall with lots of eating options and right off the Burke Gilman trail which is great for walking, running or biking.
Airbnb is also a great option with lots of properties here and lots of great neighborhoods to hang out in. If you happen to find something there and want to have a local opinion on the location, send the link our way and we'd be glad to look at it.